Teen Dance 2020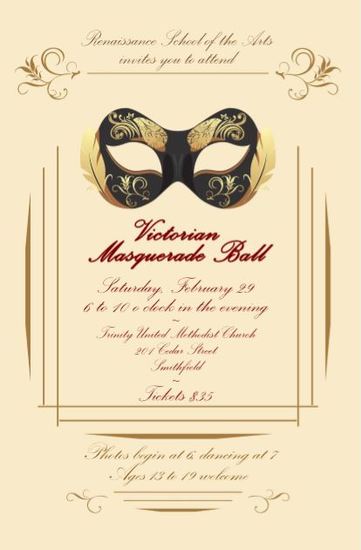 Victorian Masquerade Ball
Renaissance School of the Arts' 2020 Semi-formal Teen Dance
For RSA teens and guests & members of partner co-ops
Saturday, February 29, 2020
Trinity United Methodist Church, 201 Cedar St, Smithfield
~
Formal Photos will be taken from 6pm to 7pm
Music & Dancing from 7pm to 10pm
Light refreshments will be provided during the dance for the students' enjoyment.
All attendees must be 13-19 years of age, as of February 29, 2020. Sorry, no exceptions.
Cost: $35 (through February 13, 2020); after February 13, the rate increases to $45. The cost at the door is $55.
Registration Fee includes one formal photo choice per student.
TO REGISTER:
(1) Print and sign the registration form. The form requires signatures from both the student and the parent. The forms (and payment, if you are paying by check) should be handed to Carrie Butler (ask at the Admin Desk if you need help finding Carrie). Signed forms and payment may also be mailed to RSA at P.O. Box 176, Carrollton, Virginia, 23314.
(2) Pay the dance registration fee ($55 at the door).
(3) The registration fee includes one formal photo choice per student. Fun Photos will also be available throughout the night; for $10, come back to the photo station as many times as you'd like during the evening. Photos will be available for viewing and download through an online gallery within two weeks following the dance. Checks for Fun Photos should be made out to Debbie Lawrence.
Fun Photo Information and Sign-Up Form
Parents, here is a list of things to do in Smithfield during the dance: